Grain Dryers
From our range of continuous flow grain dryers, batch grain dryers and heat recovery grain dryers rated from 10t.p.h to 300t.p.h per hour, we are able to offer a product to meet your specific requirements.
Our grain dryers are designed to provide the latest improvements in efficiency, low energy consumption and ease of operation. We offer different heat sources from gas and oil to biofuel, and state of the art moisture control package the Tornum Intelligent Dryer Control (IDC), which will give you total control over the drying process at the touch of a button. Clean air control options are also available using a fan that gives maximum airflow at minimal sound pressure. Heat recovery dryers have proven successful in saving energy, giving up to 30% energy savings in comparison to a standard continuous flow grain dryer.
A sample of our grain dryer range can be seen below – for in depth information on our entire Allmet portfolio please click button below.
Tornum
TORNUM CONTINUOUS FLOW GRAIN DRYER, TK
Tornum's continuous mixed flow grain dryer TK is designed to provide good heating economy and a gentle drying of the grain. Outstanding quality and unique design features have made the TK grain dryer a success within the agricultural industry. The TK dryers are equally suitable for indoor or outdoor use and are built from hot-dip galvanized steel to provide a long service life.
With the TK BIG series, Tornum offers the agricultural industry new levels of performance. At full power, the largest version of our new BIG grain dryer, the TK16-44, has a drying capacity of 300 tons per hour.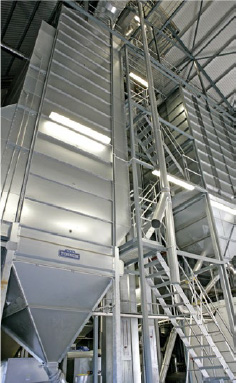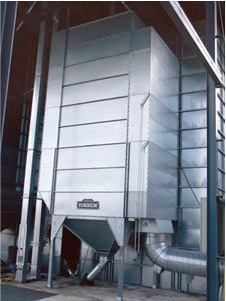 Batch Grain Dryers
TORNUM GRAIN DRYER TS
Tornum's Batch Grain Dryer TS can be adapted to different capacity requirements and is equipped with adjustable shutters for drying smaller batches. There is a discharge section between the dryer sections and the discharge hopper, which makes it possible to re-circulate the batch without having to empty the entire unit. This helps ensure even drying, a high-quality end product and good heating economy.
TORNUM BATCH GRAIN DRYER TE
Tornum's TE Batch Grain Dryer is an affordable, compact hot-air grain dryer that is adaptable to different needs. The grain dryer has a self-discharging bottom section which is used as the drying zone and is equipped with drying laterals and an outlet shutter, giving good drying economy.
Heat Recovery Grain Dryers
The Tornum heat recovery dryer is the result of Tornum's ongoing efforts to develop their product range whilst also reducing the energy consumption of their grain dryers. The HR grain dryer makes use of the energy that would be lost in a traditional dryer. Normally, up to 30% of the heat is recovered and in addition, it also provides a quieter and cleaner work environment thanks to its unique design. All our dryers are made from hot-dip galvanized sheet metal.
Includes
Level indicator
Wet air plenum
Discharge section – pulse
Level sensor
Buffer zone
Heat source – gas
Fire detection system
Ladders and platforms
Recovery zone
Control moisture content
Pressure measurement for adjusting start-up
Reduces energy consumption BY UP TO 30%
Around a quarter of the hottest moist air in a heat recovery dryer is recirculated. Moist air that is recovered passes through a recirculation zone and is then mixed with the heated cooling air. As the recycled air is warmer than the ambient air, you can reduce the energy supply for the gas burner. Nevertheless, you will achieve the desired drying temperature compared to only using fresh air. The design of the HR dryer also means that the exhaust fans at the top require less power.